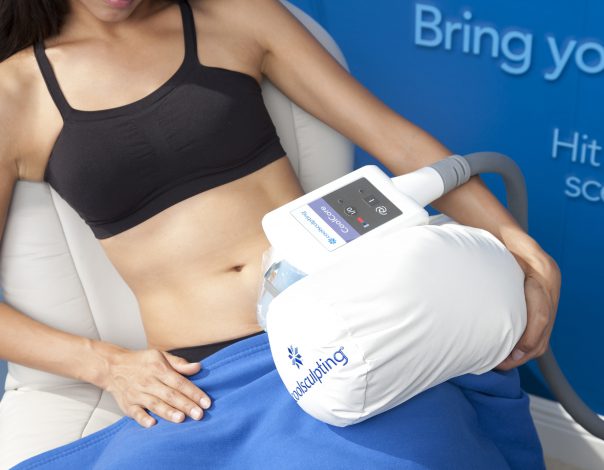 CoolSculpting: The tough, burning questions answered
I can't tell you how many people are curious about CoolSculpting and the idea of getting rid of fat without surgery. When people find out I offer CoolSculpting, they usually will pull me aside at the pool party and ask all kinds of questions, and the conversation usually ends in me giving a quick consult regarding their own trouble spot.
You are not alone in wondering if CoolSculpting is right for you. Over 4 million CoolSculpting Treatments have been performed.
So, here are the questions I always get asked, and here are the answers I would tell you as a friend.
Does It Work?
Yup. It sure does. In study after study. I see it work every day at my practice.
Who can be treated?
If you have pinchable fat you are a candidate. If you are within about 10-15 pounds of your ideal body weight, eat mostly healthy, and workout a few times a week; you are the best candidate. CoolSculpting is proving to be great at skin tightening too.
CryoLipo…. What?
Coolsculpting is non-surgical fat reduction. Basically Coolsculpting= freezing unwanted fat to death. The technical term for CoolSculpting is cryolypolisis, which means cell death by extreme cold. To sum up this magical process briefly:
Step 1: Applicator is placed onto area of unwanted subcutaneous fat
Step 2: The applicator delivers controlled cooling to fat cells by extracting heat energy
Step 3: Surrounding skin, muscle, nerves are safe because much cooler temperatures would be required to permanently harm these structures
Step 4: Fat cells die a natural death, inflammatory cells move in and digest the remnants of the fat cells
Step 5: Your body eliminates the lipids from the fat cells via the lymphatic system
Step 6: About 12 weeks later you see and feel less fat in the area treated (25% per treatment)
Results are permanent… even if you gain weight
CoolSculpting permanently removes fat cells. The body does not make new fat cells. If you gain weight, the existing fat cells enlarge. If you lose weight, those fat cells shrink. If you gain enough weight, the cells around the area you previously treated with CoolSculpting enlarge and will disguise your results. However, if you lose the weight, then you will see your CoolSculpting results again.
Why is it so expensive?
If you thought you could get away with just paying a hundred bucks to permanently remove fat, without surgery, without downtime, and achieve similar results to liposuction, sadly that's just not possible. You are paying for the convenience, state of the art technology, FDA approval, and supply and demand. There really isn't any competition for CoolSculpting. Zeltiq, the manufacturer of CoolSculpting, currently has a patent on the fat freezing technology for the next decade or so.
What about some of the other fat reduction technologies out there?
I spent a significant amount of time researching other products on the market before deciding to purchase CoolSculpting for my practice. In fact, I even tried them out on myself (my job is kind of tough sometimes!). The other FDA approved devices use heat and lasers to destroy fat cells. I looked at many factors: cost to the patient, how many clinical studies there are, the strength of those studies, the longevity of results, and level of comfort during procedure. CoolSculpting checked all of those boxes. As a practice owner, I have no choice but be picky about technology I offer, because patient results are a direct reflection of me and my practice.
I've heard it hurts, in fact my friend had it and needed pain meds afterwards!
Sounds like your friend went to a practice with the older model CoolSculpting applicators. In my practice, I have yet to treat a patient who had significant discomfort that required pain meds. I believe this is because I use the newest applicators. One great thing about CoolSculpting is the company is constantly improving its technology. The old applicators had a much stronger suction and a longer treatment time. The old applicators needed 60 minutes, versus the new ones only needing 35 minutes. I actually tried them both out. I will admit, I was not happy for a few days after treating my abdomen with the old style. I tried the new ones and it was a world of difference, a breeze actually. I will tell you the abdomen tends to be a little more sensitive than other areas of the body to treat, but nothing that will keep you laid up. You are permanently altering your body (for the better), so yes, it is normal to feel mild discomfort for a few days.
What's the deal with all the applicators? Why can't I just do one applicator?
If you have been to a consult, then you know we use various sizes of templates to determine how many applicators you need to treat the area, and it's almost always more than 1. We tried the 1 applicator for 1 treatment years ago, and it didn't turn out too well. Who knew that each body was a little different and one size doesn't fit all?! This is the reason we can't tell you a price over the phone, because we actually don't know what you need until we see your body in person. CoolSculpting has come a long way over the last decade in terms of number of areas that can be treated and how well they sculpt the body.
Curious?
Schedule a FREE consultation to talk about your specific goals and get a customized treatment plan.