CoolSculpting vs. Kybella: What's the Best Treatment for a Double Chin?
Americans are seeing a different side of ourselves… and it's bothering us!
Blame it on the rise of social media, but we are seeing a different side of ourselves. I can't tell you the number of times a client has brought in a photo of themselves from a "bad angle" and are bothered by the extra fat under the chin. In a study conducted by Allergan, over 2/3 of Americans are bothered by submental fullness, aka a double chin.
The options: Liposuction, Kybella, or CoolSculpting
Fortunately, there are ways to get rid of the unwanted fat under the chin. To obtain the most drastic reduction of fat, liposuction is the way to go. CoolSculpting and Kybella are both nonsurgical options for improvement in the appearance of a double chin. For this particular post, we'll focus on the non-surgical options.
How Kybella and CoolSculpting work:
Kybella is deoxycholic acid, a naturally occurring product in the body that breaks down dietary fat. Kybella is injected in multiple spots into the area of concern, and upon injection, the fat cells' membranes are destroyed and the fat is gone for good. CoolSculpting kills cells by freezing fat cells to death, a process called cryolypolysis. The specially designed applicator is placed on the chin area using suction to hold the tissue in place and then delivers controlled cooling to the area. The body further breaks down the fat cells over the course of three months following both treatments.
The similarities:
Both Kybella and CoolSculpting permanently destroy the fat cells. Results are best seen about 3 months from the last treatment. Finally, more than one session is usually needed for best results
The Differences:
The treatment itself: Kybella is administered via a series of injections (20 or so) via a small needle. The process takes 20-30 minutes and you may be offered numbing creme to minimize discomfort. CoolSculpting is performed by applying a suction-based applicator to the chin. The controlled cooling is applied for 45 minutes. There are no needles or incisions for CoolSculpting
The number of treatments: In the clinical trials, CoolSculpting treatments were performed a maximum of two times. For Kybella, the average number of treatments was four with a maximum of six. Both CoolSculpting and Kybella treatments are spaced about four weeks apart.
The cost: This will vary greatly depending on the size of the area to be treated, but according to RealSelf, the average cost of Kybella was $2,175. The average price of CoolSculpting was $1,300. These figures are self-reported by patients and based in the Phoenix area.
Skin Laxity: CoolSculpting has been proven to be effective in improving skin laxity. Kybella is not, and may make skin laxity worse.
The Side Effects: The Most Significant Difference This is really what separates the two treatments.

Kybella: 72% of patients had bruising, 87% of patients had swelling, 70% of patients had pain. I instruct patients that these symptoms last for 2-4 weeks. The swelling can be quite dramatic, resembling a "bullfrog neck" for 2 weeks immediately following treatment. This data is from the Allergan clinical trial.
CoolMini: Side effects are very minimal and limited to the first few days. This data is from my own patients: 100% had slight numbness for up to 2 weeks, 20% had pain lasting more than 1 day but resolved by 4 weeks. Redness was present in all patients at the conclusion of treatment but 85% of patients saw complete resolution by 60 minutes. Bruising and swelling have only occurred in 8% of patients and were reported as minimal.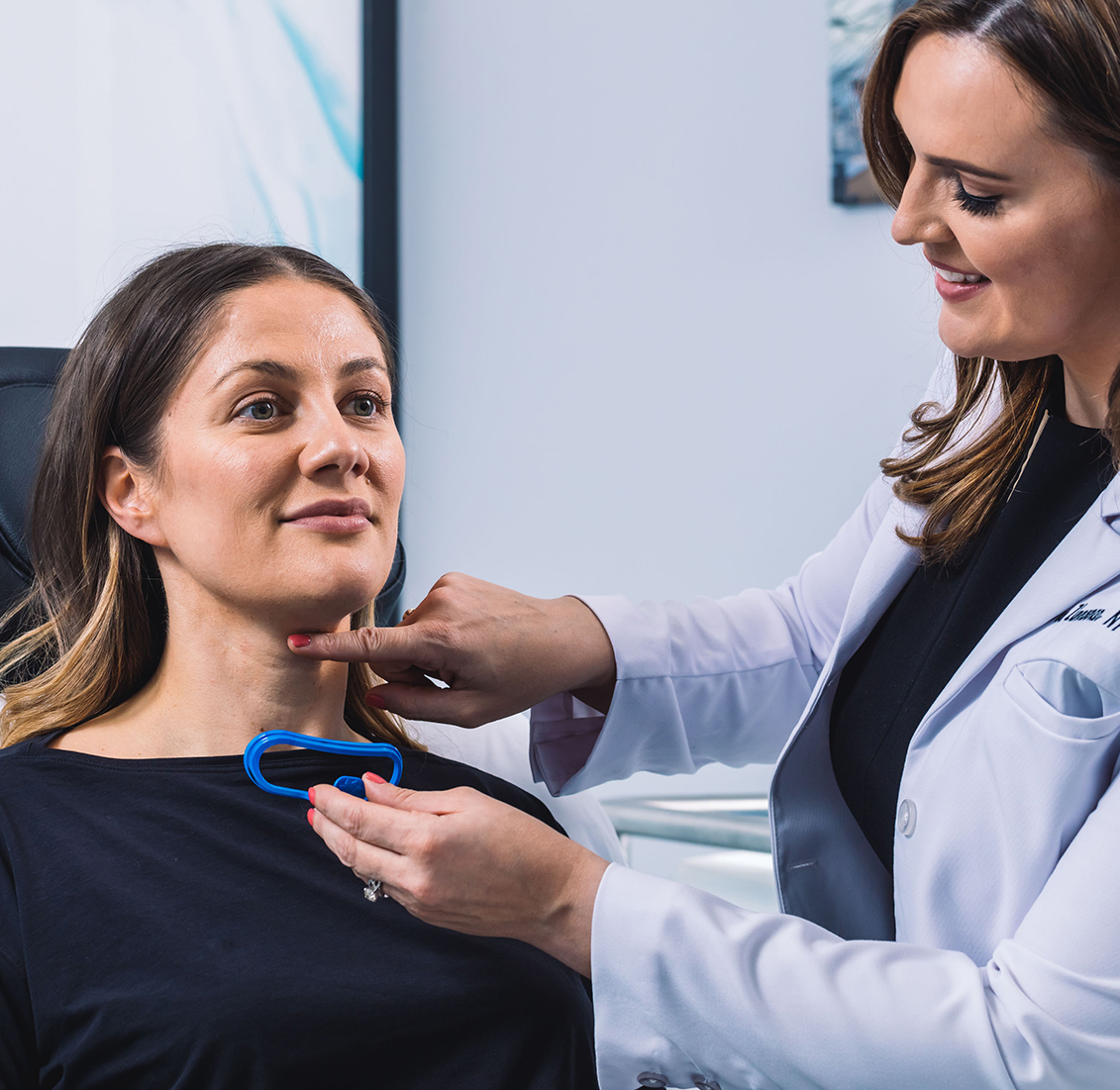 Conclusion: If you want a more affordable and comfortable treatment CoolSculpting is the best choice
You may be wondering, why is Kybella even an option? Kybella may still be a good choice for a young person with a very small amount of fat that might not fit into a CoolMini applicator. Also, many practices choose not to purchase a CoolSculpting system (they are pretty expensive) so those practices are offering Kybella to treat the area. In summary, seek out a consultation with ZL MedAesthetics to see if our CoolMini Tucson treatment the right fit for you!