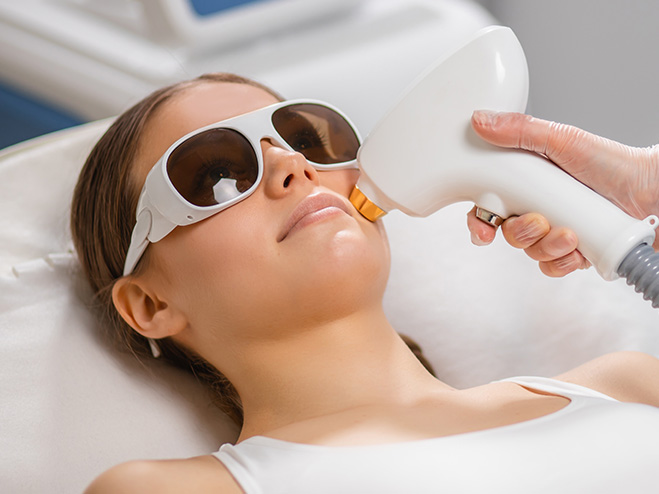 Though hair is perfectly natural, having it on certain body areas isn't for everyone. Thus we shave, wax, pluck, and do what we have to to have it removed or contained for at least the most important events in our lives. The armpits, legs, bikini line, and face are areas most women opt to have little to no visible hair in.
If the idea of having smooth, hair-free skin is appealing to you and you've tossed around the thought of having hair professionally removed, this article is for you: Comparing the pros, cons, risks, and benefits of laser hair removal and waxing.
Waxing 101
Whether you do it at home or have it professionally done, waxing removes hair by painfully plucking it out from its roots, using hot wax that is set to cool around the shaft of each hair so it can be pulled upward, roots, and all. Done in private or professionally, the process is painful and has to be repeated regularly, with treatments scheduled about every month or three. Between treatments, the hair is left to grow because for waxing to work, part of the hair shaft has to be exposed above the skin to allow the hot wax to wrap around it. If you can bear the pain, waxing is an acceptable option for hair removal. But there are certainly better options.
Laser hair removal is done with a special device that emits bursts of light of a particular wavelength. Directed at the skin, this light differentiates between your natural skin tone and the tone and density of your hair, targeting your hair for removal over time. The energy emitted by the laser is converted into heat, causing targeted hair follicles to deteriorate and eventually become unable to produce hair. For patients who have previously waxed their bodies to get hair removed, laser hair removal will be surprisingly more comfortable and more cost-effective.
Key Differences Between Waxing And Laser Hair Removal
Pain & Discomfort: Laser is far more comfortable
One of the most noteworthy differences between waxing and laser hair removal is that waxing can be very painful as it physically tears out hair by its roots. To some patients, laser hair removal causes mild to moderate discomfort, but on the whole, it is easily bearable. Some patients describe it as a rubber band snapping at the skin repeatedly, while others find it extremely easy to sit through a full treatment session without flinching.
The time between treatments: Laser doesn't require hair above the skin surface to work. (Waxing does.)
Because both laser hair removal treatments and waxing sessions are spaced about a month or more apart, what occurs between treatments is important. With waxing, you will need to allow your hair to grow freely between treatment sessions, as later sessions still require enough hair above the skin surface for the wax to grab onto. Between laser hair removal treatment sessions, you can shave as needed. As your laser treatments progress, shaving will be less and less necessary.
Adverse reactions: Professional laser hair removal is safer and healthier for your skin
Adverse effects are possible with both waxing and laser hair removal: Whether waxing is done right or wrong, it can cause or contribute to ingrown hairs and folliculitis (infected, inflamed hair follicles). Laser hair removal, if not done right, can result in skin surface burns. On the whole, laser hair removal done by an experienced professional is much less likely to cause any adverse effects.
Final results: Laser for the win, but both procedures have limitations that can be worked around.
Both waxing and laser hair removal removes the most visible hair and produces great results for most patients. Waxing is equally effective for patients with both light and dark hair and patients of any skin color. Laser hair removal is best suited for patients with thick, dark, coarse hair, but recent advances in lasers make it effective on patients of almost all skin tones and hair colors.
Professional Laser Hair Removal at ZL Med Spa
For more information on laser hair removal or to schedule a personal consultation, please don't hesitate to reach out by calling 520-204-1956 or filling out our online contact form.