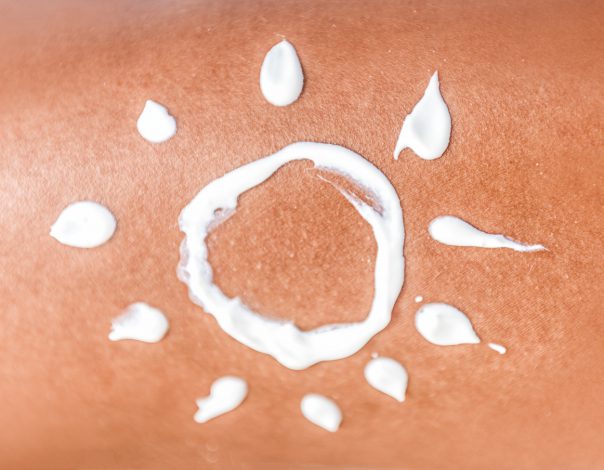 Sunscreen: Are you using the right kind?
Sunscreens: skin cancer prevention and much more.
I get a lot of questions and hear a lot of myths about sunscreens. Read on for a detailed discussion… For those of you who want the quick recap here it is: Wear sunscreen that contains Zinc oxide every single day. The benefits of broad spectrum sunscreen far outweigh any claims of harm, provided it is applied correctly and has effective UV filters.
A Quick bit on UV light and what broad spectrum means.
Sunlight is radiation. It's the bad kind of radiation- ionizing. Ionizing radiation causes enough electron excitement to disrupt atom bonding and create free radicals. Free radicals cause a chain reaction of"electron stealing" and can alter normal cell function and punch permanent holes in DNA. Simply put, it causes mutations, which can ultimately equal cancer. Skin cancer diagnoses grew 200% from the 1970's to 2011. 1 in 5 people will develop skin cancer in their lifetime.
UVA rays are the worst, responsible for most skin cancers and photo aging. These rays penetrate all the way down to the dermis (the deep part of the skin). There are both UVA1 and UVA2. These rays even penetrate during a cloudy day and can pass through glass, meaning you aren't protected in your car or especially on a plane. UVB rays penetrate down to the epidermal layer, which is more superficial and are responsible for the red sunburnt color. These rays are more prevalent during hours of sunlight. They are also likely to cause skin cancers and visible aging. So, the point is – you need a broad spectrum sunscreen that covers both types of radiation, UVA and UVB.
UV light is the main source of visible skin aging. We refer to this is photaging.
What makes the skin look older? Uneven pigmentation, particularly dark pigment (hyper pigmentation), areas of redness (rosacea), skin laxity from loss of collagen and elastin, and finally wrinkles.
Ingredients matter
The most effective sunscreen ingredient is Zinc oxide. It blocks both forms of UVA and UVB. From there, the remaining active ingredients will differentiate the products into a pure physical sunblock or one with a chemical filter. Here's the difference between the two:
Pure physical sunblocks are mineral based, composed of titanium and zinc. These ingredients sit on the surface of the skin and essentially reflect UV light away. The benefits to these sunscreens include minimal sensitivity or irritation since they are not absorbed and prevent heat formation. For those of you with rosacea or acne, using a physical blocker will help prevent flare ups. Finally a huge advantage to the physical blockers are immediate effectiveness when they are applied, there is no waiting for absorption. There are a few inconveniences to a physical sunblock. The first is that these products can easily be brushed off and wiped off, so it is absolutely prudent to be reapplying every 20 minutes during activity or direct sun exposure. The other inconvenience to some physical sunblocks is that they can produce a white, chalky color. This is due to the mineral ingredients. There are a number of physical sunscreens that have some tint, which essentially eliminates this white hue. We've come a long way from the white Zinc Oxides that were once painted on noses. Also, the zinc oxide sunscreens are the most environmentally friendly and do not damage coral reefs.
Sunscreens with chemical filters act a little bit differently. These products absorb the UV light and convert it into heat which is reflected away from the skin. Zinc should still be the primary component. The chemical filters are usually Oxybenzones, avobenzones, octisalate, and octinoxate. There are a variety of chemical filters and you really get what you pay for here, the octinoxates and octinosalates generally have less irritation. Medical grade sunscreens with an oxybenzone have been rigorously tested to prevent irritation. These sunscreens are generally able to provide better protection for a longer period of time. Also, the consistency and color are less noticeable and feel very lightweight to wear. The inconveniences to the chemical filters are that you need to apply 30 min before sun exposure. For those of you with sensitive skin, you may have a chance of irritability or inflammation, depending on the formulation.
Finally, there is the concern of "putting chemicals into the skin". The environmental working group (EWG) conducted a study of oxybenzones using rats. The EWG is not a scientific organization, and this article was not peer reviewed. The findings raised concern for hormone disruption and skin allergies related to oxybenzone. Looking closer at this study, the amount of oxybenzones the rats were treated with is significantly higher than what we even recommend for human use (which happens to be a shot glass reapplied every 2 hours!). In fact, since that study, other human studies evaluating the safety found absolutely no increased risk of hormone disruption. A 2011 study in JAMA Dermatology found over 200 years of sunscreen application would be needed to reach the amount of exposure the rats were subjected to.
Antioxidants are your back up
Going back to the free radicals and mutations, antioxidants have you covered for the UV rays which get past your sunscreen. Antioxidants cover more than just free radicals from UV rays, but also pollution or other chemicals we subject ourselves too (including those in sunscreens!)
As with most medical treatments, medications, or procedures it's all about a risk vs benefit analysis. Personally, I slather on a sunscreen every morning which contains octinoxate and then reapply a physical sunscreen through out the day.