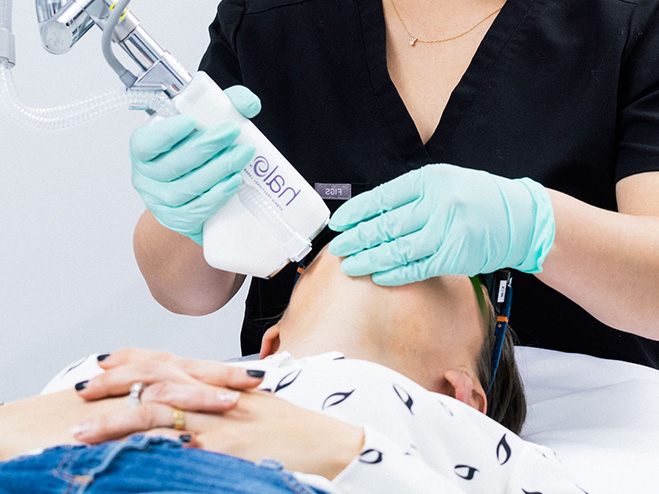 What is the best laser treatment for anti-aging?
Laser skin resurfacing addresses many of the most common skin concerns for a smoother complexion if you struggle with textured skin and other signs of aging. These treatments target sunspots, age spots, and wrinkles. Here are the four best laser treatments for anti-aging and facial rejuvenation.
HALO® Laser
HALO® is a one-of-a-kind hybrid laser featuring two wavelengths to reverse accumulated sun damage. The laser brightens the skin with little downtime, achieving unparalleled skin rejuvenation with significantly less discomfort.
Using erbium in ablative and non-ablative wavelengths triggers the skin's natural healing response, improving the overall appearance of the skin and restoring your youthful glow. While you will see some improvement in the first five to seven days, you'll continue to notice improvements for up to three weeks.
HALO laser treatments feature the following:
Reduces skin discoloration

Encourages collagen production

Erases fine lines and wrinkles

Reduces the appearance of enlarged pores

Improves skin texture affected by UV damage

Reveals a smoother and brighter complexion

Enhanced collagen and elastin production

Minimal recovery time

Utilizes Erbium for treatment with less heat and less associated risk of hyperpigmentation
Contour TRL
Fine lines, wrinkles, and hyperpigmentation are easily solved with a non-surgical solution. Laser resurfacing with the Contour TRL Erbium Yag laser removes a variable depth of damaged and aging skin.
Depending on the depth of treatment, most patients feel comfortable enough to return to work within two weeks. As your skin heals in the days following your treatment, you will see noticeable improvements in your skin's texture, tone, and wrinkle appearance. Because your collagen production is stimulated, your skin will show increasing improvements in tightness and resilience over the next four to six months.
This treatment features:
Eliminated problematic lines, wrinkles, and pigment irregularities

Stimulated growth of new collagen

Improved skin's overall volume and resilience

Reduced lip lines

Lightened scars

Diminished sunspots

Treated actinic keratosis

Evened skin tone and texture

A younger and more rejuvenated appearance

Customized treatment according to your unique skin conditions, desired outcomes, and downtime expectations

Contour TRL is highly effective when performed on its own and is easily paired with other treatments for total skin rejuvenation

Most patients only need one treatment
Forever Young BBL
When you take advantage of regular Forever Young BBL treatments, your skin will look healthier, smoother, and younger. The Sciton® Forever Young BBL™ laser primarily targets:
Wrinkles

Fine lines

Pigmentation (brown and red spots)

Sagging skin

Small, visible blood vessels

Sun damage

Uneven skin tone and texture
Using Broadband Light™, the Forever Young laser addresses the top layer of skin and the lower layers at the molecular level to restore damaged skin cells.
Some of the anti-aging benefits of Forever Young BBL include:
It uses powerful light technology to work on the skin molecules specifically associated with aging, changing cells to restore them to a more youthful state

A three-in-one treatment that focuses on underlying red and brown lesions, and loose skin

Twice-yearly treatments as part of a long-term skincare plan can create more collagen and elastin to restore the skin to a genetically younger state

Treatments are approximately twenty minutes long

We recommend 3 to 5 treatments spaced 3 to 4 weeks apart for the best results

Most Forever Young BBL patients can resume their regular activities following treatment

Early results can be seen in one week, with improvements progressing for several months
Profractional
ProFractional laser therapy tightens, tones, and improves the overall appearance of the skin, including the following:
Face

Neck

Abdomen

Legs

Arms
The treatment uses "fractioned" laser resurfacing so that only a portion of the skin is treated during each session. The surrounding tissue promotes rapid healing, causing an increase in collagen growth due to the skin's natural healing process. Collagen continues to build and improve the appearance of the targeted area for months after treatment.
ProFractional laser therapy is most commonly performed to achieve the following results:
Reduce wrinkles and sagging skin

Build collagen

Quickly tighten and tone the skin on your face or other areas of your body

Safe and effective for all skin types

Non-invasive and non-surgical anti-aging treatment

Eliminates the possibility of scarring

Results are long-lasting, provided you maintain a healthy lifestyle

We can pair it with additional services to enhance your desired results, including

chemical peels and facials
ZL Medspa for skin rejuvenation and anti-aging
Founded in 2016 by two board-certified medical professionals, ZL Medspa was created to fulfill a need for advanced anti-aging treatments with a user-friendly experience. We deeply care about the results we deliver and provide the most natural look, keeping you looking like yourself, only your best version.
Dr. Ethan Larson, MD, and Laura Zimmerman, NP, are well-known and respected in the industry. We have carefully crafted a multi-modal approach tailored to each individual to ensure comfortable treatments, making us experts in skin rejuvenation and anti-aging.