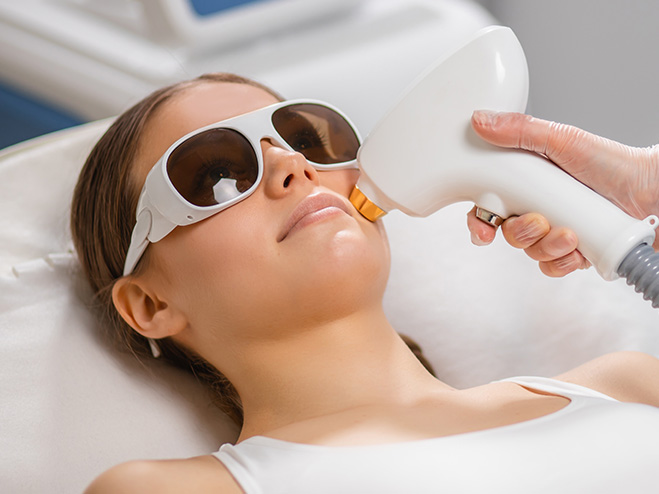 While acne is often associated with teenagers, the truth is that people of all ages suffer from it and the scars it leaves behind. Acne and acne scars can cause people to feel self-conscious, making them less willing to be social and attend events. As no two people have the same skin and will experience different types of acne to different degrees, it is best to address and treat the issue on an individual basis.
Today, there is a wide range of treatment protocols available for patients that are seeking to rid themselves of acne and acne scars. Everything from laser treatments to photodynamic light procedures can achieve remarkable results, giving acne sufferers a chance to finally enjoy a smooth, radiant complexion. Understanding what each treatment can and cannot do will help patients make the best decision for themselves.
Profractional Lasers
What makes this laser treatment for acne scars unique is that it's able to pass through both the epidermal and dermal layers of the skin. The depth at which the laser penetrates can be modified, allowing patients to get fine-tuned results. Beyond that, the laser is able to stimulate collagen production deep within the skin, filling in pits and depressed scars in the skin.
Beyond the healing effects of ProFractional laser treatment for acne scars, patients experience the benefits of increased comfort and less downtime. Beyond that, ProFractional lasers are able to focus on specific imperfections in microscopic areas of the skin, giving them more precision than other laser treatments. It is for this reason that ProFractional Laser treatments are considered to be one of the best options for treating acne scars.
Sciton Lasers
Sciton Lasers work by emitting heat directly into the skin, penetrating into the deeper layers of the skin. It's equipped with a cooling technology that protects the skin's surface from being damaged in the process. The laser's waves eliminate bacteria while triggering collagen production and improving skin elasticity. While this laser is often used to treat other issues, such as wrinkles on the face, sun spots, and hyperpigmentation, it is also an incredible treatment for active acne and acne scars. The treatment can be completed in as little as 15 to 30 minutes, and there is minimal pain. The treatment is also associated with little-to-no downtime.
Where other skin procedures fail at reducing active acne, the Sciton Laser can be of help. It has proven effective in addressing acne issues in patients of all skin types and tones. Upon penetrating the skin, the Sciton® Laser eradicates acne-causing bacteria and reduces the size of the sebaceous glands, lowering the chances of oil overproduction. It also stimulates new collagen production, helping to repair and rejuvenate areas of the skin affected by acne. All of these features together help repair the skin and prevent breakouts in the future.
Moxi Lasers
MOXI is cutting-edge laser technology that gently lightens and rejuvenates the skin with little downtime. MOXI has proven to be an effective treatment for hyperpigmentation and acne scars. Since its inception, it has become known as a higher-end preventative skincare protocol that elicits natural-looking results.
The MOXI procedure is quick, taking as little as 20 minutes to carry out. The tools employed with this treatment are single-use, decreasing the risk of contamination or other complications. The treatment is not associated with any excessive swelling or redness. Beyond that, the post-procedural instructions for Moxi are considerably easy, such as refraining from wearing makeup and doing vigorous exercise for the first 24 hours.
What is the takeaway?
While acne can sometimes seem like the end of the world, it doesn't have to be. Whether the patient is dealing with active acne or acne scars from years past, there are ways to help them achieve the complexion they've been dreaming of. In the world of modern dermatology, we now have various methods that can address these issues, such as laser treatments. ProFractional lasers, Sciton lasers, and Moxi lasers are all great options that come with their own unique benefits.
Patients can schedule a private consultation with a cosmetic clinic to assess their situation and determine which procedure will best meet their needs. As with any cosmetic procedure, it is recommended that patients seek out a certified, experienced practitioner to carry out their laser treatments.